When you want to lose yourself amidst nature, Camping is the best way. Getting up to the chirping birds, river streams whooshing, clear sky, and fresh air. Everything one needs to get refreshed is best absorbed while camping. But, while camping, one needs to be cautious as you are out of your comfort zone and your safe habitat. In this blog, we will highlight some of the safety tips to keep in mind while Camping.
Choice of Shelter
While going for camping, one must decide what type of shelter they would want. If you want to stay in a tent or a resort. Choice of shelter/ tents also depends on the weather conditions, people staying with you and the surrounding area. While selecting the shelter/ tent, read/ research about the area thoroughly to avoid any mishappenings that could affect your stay.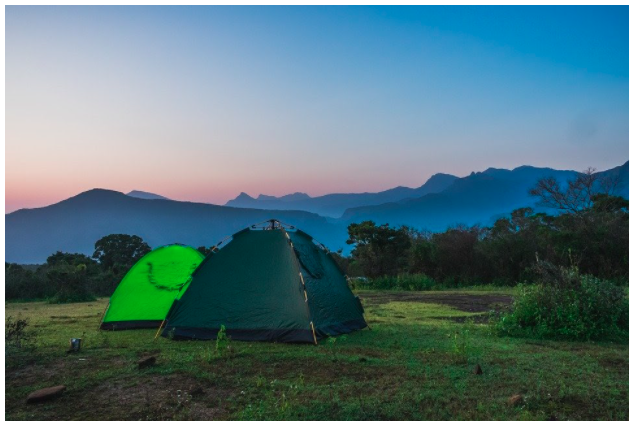 Know your Surroundings
While deciding the campsite, study your site, and the area around it, thoroughly. Before camping, one should be aware of its surroundings well so as to pack accordingly and be prepared.
Packing Essentials
It is always good to pack only essentials while going camping. Do not take unnecessary items adding weight to your luggage. Adding extra weight makes your journey difficult and may also harm the natural environment. Try to use natural resources and take only essential items.
Protection against Bugs/ Insects
As you will be out in open, very good chances are that bugs are going to welcome you. To prevent yourself from getting bit by them, you must apply and carry bug/ insect repellents with you. It would be much better if you have natural repellents like Lemongrass, Neem, Eucalyptus, etc. Also, wear full-length pants and shirts to avoid bugs getting to you easily and keep your food above ground level to save it from insects.
Safe Campfire
Light a campfire a little far from your tent/ shelter, obviously, you wouldn't want your tent to set ablaze. Once the campfire is over, pour water on it to put it off entirely, so there are no dying embers.
Stay Alert
When you are out in the wild you need to stay alert always, beware of any wild animals nearby. Also, stay alert about your body needs, how your body reacts to different things; if you are allergic to any plant or herb, etc. Having less alcohol makes you stay more alert. Also, keep your family or friends informed about your whereabouts, always.
Take care of your pets
Take special care of your pets as; 1) they are domestic animals and are not aware of any wild rules, 2) they are not well aware of the surroundings. So, if neglected, they might get lost or, worst might become someone's meal.
Have fun camping with your friends and family, but with all the precautions.
Stay Alert. Stay Hydrated.
Enjoy nature without any intoxication, you will LOVE it.